Meet HydroBot
HydroBot is the world's first open source hydroponic automation system. HydroBot allows you to take the guesswork and hassle out of growing plants in water. HydroBot will seamlessly work with any hydroponics, fogponics, or aeroponics system.
Simply set it up once and start growing plants faster, that taste better. Monitor your system from anywhere in the world on any phone or computer. HydroBot comes fully assembled in a beautiful custom laser cut acrylic case with specially treated water resistant electronics.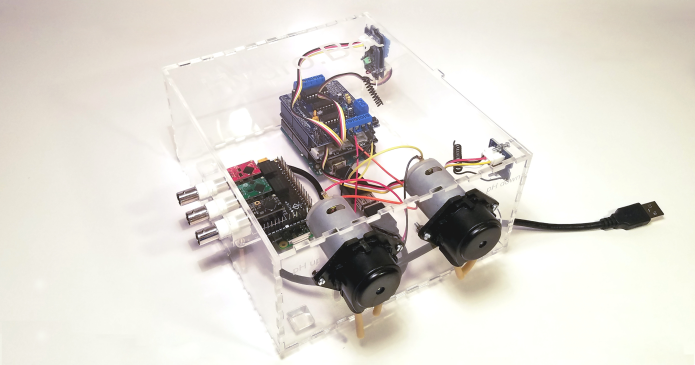 HydroBot
What makes HydroBot amazing and unlike any device on the market is its ability to wirelessly control an unlimited number of hardware devices. Connect HydroBot to appliances such as air conditioners, fans, bubblers, dehumidifiers, or lights within a 200 ft range in just a few seconds without any wires. Combine this with its data logging, detailed reports, environmental sensors, and its ability to be controlled from anywhere in the world and you've got the most powerful hydroponics automation system ever built.
Even after taking into account all residential and commercial systems available, HydroBot is still the most powerful and cheapest system on the market.
HydroBot is a great investment
HydroBot can realistically pay for itself in under 6 months. A system taking up less than 6 square feet can easily create over $100/month in value. In our example, we conservatively valued the harvest of leafy greens in one month at $1 per plant, in a  system with 108 plant sites. With plants that take about a month to harvest, you are producing a value of $648 in 6 months. However, leafy greens can retail anywhere from $1 to $5 per head or pound. If we value those plants at $5 each, you are producing $3240 of value in a 6 month period. The reality lies somewhere between these estimates and can vary depending on what you grow. In this example we're using leafy greens, but you can grow almost any kind of plants you want such as tomatoes, bell peppers, herbs, flowers, strawberries and a lot more! This investment not only benefits your wallet, but also the health of your family, your community and yourself.
Great for both beginners and experts
While HydroBot is designed to be beginner-friendly, it's also great fun for veteran hydroponic growers! We've done lots of testing with different plants, in all kinds of conditions. It's perfect for NFT (nutrient film technique), Bucket systems, DWC (deep water culture), and aeroponics (it is not designed for aquaponics). With normal use, HydroBot will last for many years (though probes may need to be replaced periodically).
What can I grow?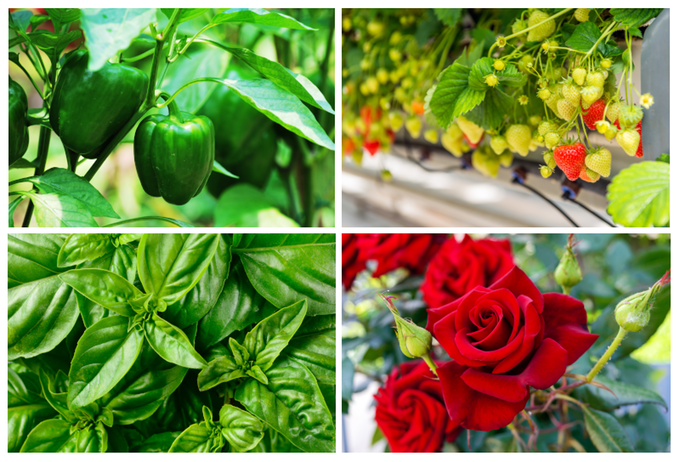 Bell Peppers, Strawberries, Basil, Roses
You can grow almost any kind of plants you want! Commonly grown plants include:
Fruits & Vegetables such as: Tomatoes, Bell Peppers, Artichokes, Beans, Lettuce, Spinach, Cabbage, Beets, Asparagus, Broccoli, Cauliflower, Brussels Sprouts, Peas, Eggplants.
Berries such as: Strawberries, Raspberries, Blueberries, Blackberries, Boysenberries, Loganberries.
Herbs such as: Basil, Catnip, Cannabis, Chives, Cilantro, Coriander, Dill, Fennel, Lavender, Mint, Oregano, Parsley, Rosemary, Sage, Tarragon, Thyme, Watercress.
Flowers such as: Amaryllis, Dahlias, Chrysanthemums, Iris, Freesia, Lily, Gerbera (Daisy), Roses, Orchids.
How the HydroBot works
HydroBot is built on top of two powerful mini computers. The RaspBerry Pi Zero and Arduino Lenardo. It runs Linux and controls appliances such as fans or lights wirelessly using dual 433Mhz omnidirectional antennas. It comes with highly sensitive air temperature, humidity, water temperature, pH (water acidity), and EC (water nutrient content) environmental sensors. It can even broadcast its own wireless intranet network for easy initial setup. It has tens of thousands of lines of custom software written by a developer with over 17 years of professional experience. On top of that, HydroBot's software can be updated, so it will continually get better over time!
How we made HydroBot
We've been hard at work for over a year working on HydroBot.
We started our idea project on paper. Then we built a rough model with electronics attached to a block of wood. The next version was built with relays and packed in a plastic container. Next we mocked up a CAD model of what it could look like. In this version we included 433 Mhz wireless radio to control outlets and fans controllers instead of using replays. We laser cut a beautiful acrylic case with the help of our local maker space – Building 61 at the Boulder, Colorado Public Library. Finally we reached the finished product.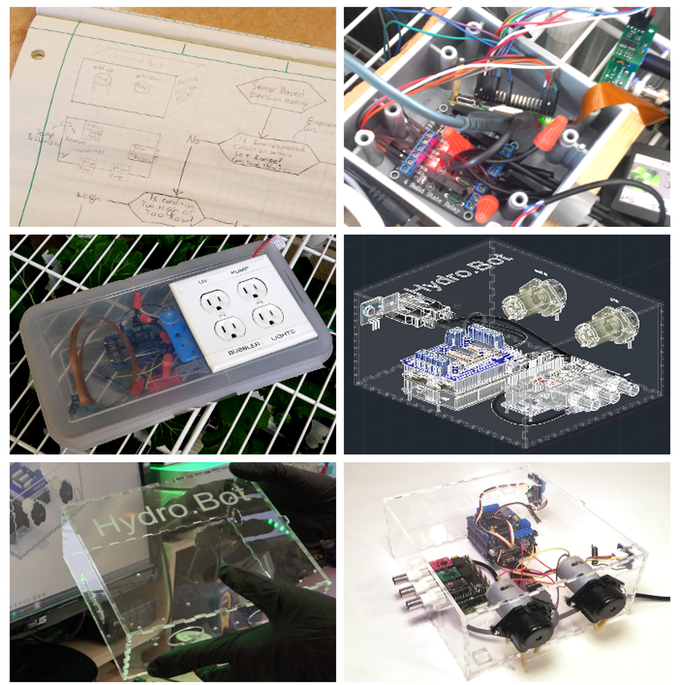 The different stages of HydroBot
Features
Water Resistant Electronics
WiFi Connected Smart Device
Easy Installation and Set Up
Data Logging (pH, EC, Humidity, Air Temp, Water Temp)
Easy-to-use web app that can be controlled on any device, anywhere in the world.
Wireless Outlet Control (Lights, AC, Dehumidifier, Heater etc.)
Manual and Automated Control
Timed Controls (Lighting, Fans, Aeration etc.)
Fits Large and Small Hydroponic Configurations

Specifications
The case size: 15 X 16 X 8 (cm)  Note: The case size is subject to slightly change size during production.
Requires two outlets. Internally uses 12v and 5v power.
No assembly required.
Set up
HydroBot comes fully assembled. Initial set up takes less than 5 minutes and does not require any tools. Calibration of the probes, pump priming, and setting up the automation can add approximately 15 minutes to the process. Detailed instructions and documentation will be provided.
Production Schedule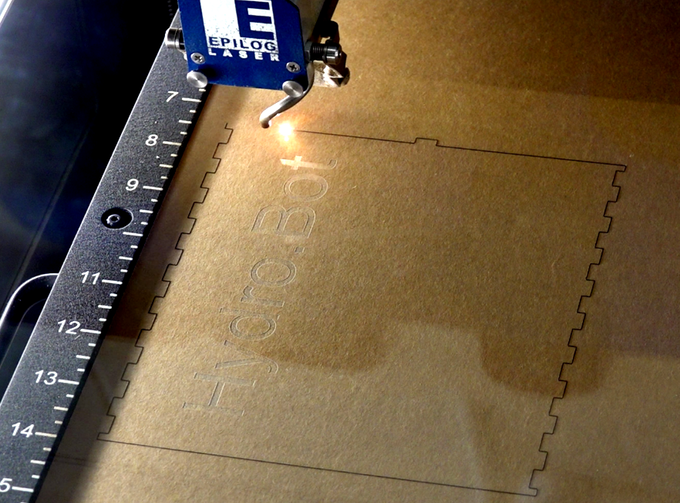 Laser Cutting the Custom HydroBot Case
HydroBot will be assembled by hand in Boulder, Colorado! We're committed to local assembly, sustainability and reducing our shipping miles and carbon footprint. We will ship Indiegogo HydroBots in January!
Funding
Your support will help fund the production of HydroBot. We've been prototyping for over a year and are thrilled to be able to bring home farming to the world in a new way. Our $5,000 funding goal will cover component costs, labor costs and allow us to start prototyping the next generation of hydroponic robots.
Shipping
Backers will be responsible for shipping. Our international backers will also be responsible for tariffs, customs fees in addition to shipping. Please contact us to get an accurate shipping price for your address. Our first 100 units will be shipped in December, the next 100 will ship in January and so on.
Do I need anything else?
Please note that HydroBot requires pH, EC and water temperature probes, as well as remote wireless outlets. We didn't want to force our backers into buying any extras they don't want or already own. However we have created a list of recommended products we trust. You can find them through Amazon here: HydroBot Essentials
Safety
HydroBot is an electronic device that operates near water. While all of the circuit boards are coated in a water resistant film there is always a possibility of short circuiting and electric shock. Our electronics run at 5 V and 12 V and no one has been hurt during any of our testing and use. However, please use common sense and don't try anything dangerous.
All of the prototypes shown in the photos and video are fully functional and have been thoroughly tested, but details shown may change in the final product development and manufacturing.
About Us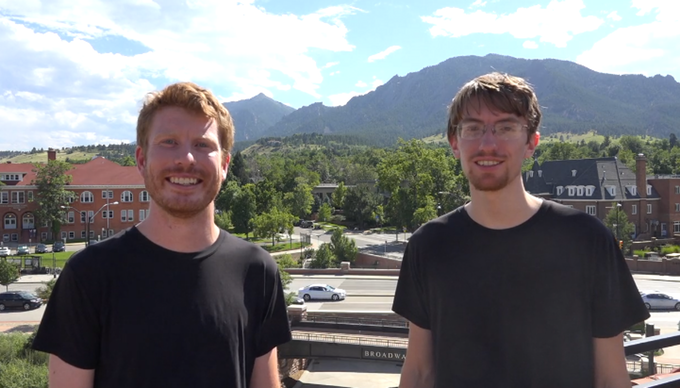 Co-founders Scott (left) and Maximilian (right)
We're a small committed team of engineers, software developers, designers and makers. We've worked together for over a year developing HydroBot. We're thrilled to grow HydroBot from seed to harvest, but we need your help. We strongly believe in creating local and sustainable food systems and connecting people to their food sources. We want HydroBot to show people how easy it can be to grow their own food. We hope your HydroBot brings you closer to the natural world, wherever you live.
Thank you for your support!
We thank you all for your support, and want to thank everyone who has supported and believed in us!








Manufacturing
Going from a prototype to scaling a product can present significant challenges. We have designed HydroBot with manufacturing in mind. Most of our parts are open source hardware and are widely available from a variety of manufacturers. We will streamline manufacturing by:
Manufacturing in house in Boulder, Colorado, to maintain high quality
Testing parts before shipping
Laser cutting our cases in house
Using mostly off the shelf and open source parts
Software
Once we ship and the first HydroBots start coming online we must be prepared for unknown bugs in the software to appear. While we have tested the software extensively, this will be our first test at scale. With over 17 years of software development experience and software that we wrote from the ground up, we're confident we can solve any problems that arise. HydroBot's software can be remotely updated which means we can patch up the software and send you an update as soon as we upload it. As an open source project, developers can also read our source code to try and fix the bugs themselves.
Fulfillment
We want to keep our backers happy! So, we are:
Maintaining a realistic time frame for production
Spreading out the fulfillment of orders into groups of 100
Assembling all units locally.
Orders placed now will ship in December, 2019.